The Game Pleads Not Guilty To Assault Charges


Compton, CA rapper The Game pleaded not guilty to felonious charges of assault yesterday (June 7) stemming from an altercation in which he allegedly punched an opposing player in the face and then pulled a gun out, during a game of basketball.

Charges were officially filed against The Game on June 4, in connection with the February incident. According to prosecutors, the incident occurred at the Rita Walters Educational Learning Complex in South Los Angeles.

The rapper allegedly punched the player during the game and then pulled a gun out of his red Cadillac Escalade and threatened to shoot the individual.

In May, Los Angeles Police Department officers searched The Game's house seeking evidence in connection with the altercation.

He was arrested after officers concluded the search of his Glendale home and made headlines around the world, when footage surfaced of the rapper grimacing and making faces in the back of a police car, as officers took him to jail.

The Game, born Jayceon Taylor, faces three counts, including making a criminal threat and showing a firearm in the presence of an officer.

He is free on $50,000 bail. If convicted, The Game faces up to five years in prison.

50 about to fire G-Unit??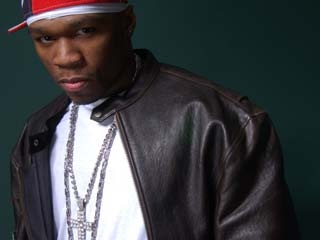 50 Cent is a boss above all, and he talks G-Unit business in the July issue of Vibe, making it clear that some members of the crew should keep their résumés current. "I'll fire everybody," he said.

"I don't give a f---. They're capable of all of their responsibilities, but when they start slacking, they gotta get the f--- outta here." Young Buck gets a good performance review — "He is the clean-up man because he's actually selling" — with one caveat: "Sometimes he says things without being totally conscious of what he's saying, so he's gonna make mistakes."

And Tony Yayo, well, he's set for life. "Yayo can't be dropped, period," 50 explained. "He doesn't even need to sell records. As long as I'm breathing, he's gonna be good. And if I'm not breathing, then he's gonna be real good." That's right, 50 confirmed: Yayo's in the will.


Eve Helps Celebrate Puerto Rican Day Parade with Performance


Puerto Rican Day parade attendees will have something extra to enjoy on Sunday (June 10) when rapper Eve makes an appearance to help celebrate the event's 50th anniversary.

Eve will treat fans to an exclusive performance on a float provided by New York radio station Power 105.1 (WWPR-FM).

In addition, Power 105.1 on air personalities Ed Lover and DJ Clue will host the float, which will drive up 5th Avenue in New York City.

The parade is one of many events put on by the National Puerto Rican Parade Inc., an organization established to create a national awareness and appreciation of Puerto Rican culture and its contribution to the culture and the society of the United States.

The event is scheduled to take place from 11 a.m. to 3 p.m.

Eve's performance at the parade comes as she prepares for the release of her new album Here I Am on Aug. 7.

Fans can also catch Eve on the first episode of the new VH1 reality series Bridging the Gap alongside fellow rapper/actress Queen Latifah.

The half hour show, which currently has no air date, centers two established artists that have mutual respect for each other as they discuss their lives and music during the span of a day while creating a new song.


D12's Denaun Porter Sells Beats for as Low as $50 on New Website


D12 producer and rapper, Denaun Porter, is launching a new website, www.MrPorterbeats.com, giving independent artists the ability buy his beats at an affordable price.

The website will live on June 15 and membership is free. "I'm always getting demos from people who want to work with me or just want feedback," says Porter. "Unfortunately a lot of their work is not good because the music lacks quality. I can't work with everyone but this site provides opportunities for them to have a direct link to my production."
Denuan is selling some of his beats for as low as $50, while other users are offered the opportunity to browse an "exclusive beats" section where they can purchase full ownership of Porter's beats, complete with pro-tools sessions. "If the music industry was driven by more innovative producers and visionaries, I believe there wouldn't be drastic drops in sales," Porter says. "I have a tone of beats in my arsenal for artists that want to be creative and don't want to sound just like everyone else that's out there.
One of the biggest problems of the music industry today is that majority of the artists being pushed are carbon copies of each other. There's no creativity. All the production sounds alike. It's time for people to step outside the box and go beyond the norm."




BET's 106 & Park To Air In Japan This Fall




BET's popular countdown show 106 & Park will premier this Fall on MTV Japan as part of the network's continued expansion.

A weekly best of 106 & Park show will air along with exclusive content on www.mtvjapan.com Hosts Rocsi and Terrence recently traveled to Japan to tape footage for the premiere episodes which will be broadcast in English with Japanese subtitles. While in Japan, Rocsi and Terrence checked out the local music scene and hung out with local DJ's and MC's.

"Visiting Japan was quite the cultural experience," said Rocsi.

"I was surprised they were not that far behind when it comes to hip-hop and I'm proud to share our black culture with our newly-found Japanese fans," said Terrence.

"Black American culture has incredible appeal around the world and transcends barriers of race and ethnicity," said BET Chairman Debra Lee. "There are places around the globe that hunger for what BET has to offer. It's our plan to build a footprint of international partners to help us deliver that content."

Bobby Valentino Assists NBA All-Stars In Big Tigger AIDS Fundraiser


Big Tigger and his host of celebrity friends head to Atlanta this weekend to join together for his 6th Annual Celebrity Classic, which aims to raise public awareness of HIV/AIDS while also serving as a fundraiser for the cause.

The event, which is presented by Big Tigger's Street Corner Foundation, kicks off today (June 8) through Sunday, June 10 in Atlanta, Georgia. Tigger, who currently hosts CBS Radio's WPGC's "Afternoon Drive" and the internationally syndicated "Live In the Den with Big Tigger," will be joined by celebrity friends from television, film and music as well as the NBA and NFL, all in support of raising funds for and heightening public awareness of HIV/AIDS.

Now in its sixth year, Big Tigger's 6th Annual Celebrity Classic will feature events such as a Youth Sports Clinic, an HIV/AIDS Testing Initiative, Welcome Reception & Silent Auction and Sponsors VIP Luncheon. One of the weekend's most popular events is Saturday's All Star Celebrity Basketball Game which will be held at MorehouseCollege's Forbes Arena. Tickets are currently available through Ticket Annex (www.ticketannex.com)

The goal of this weekend's Classic is to distribute at least $50,000 in grants and donations to deserving HIV/AIDS charitable organizations. Sponsors of Big Tigger's 6th Annual Celebrity Classic include Brand Jordan, New Era Caps, T-Mobile, Atlantic Records, Finishline/Man Alive, Head Gear, Hpnotiq, Rides, XXL, King, Volkswagon, Delta, Courvoisier, Harley Davidson USA, BET Rap-It-Up and Gino Green Global.

Personalities expected to be on hand this weekend include Allen Iverson, Vince Young, Terrell Owens, Bobby Valentino, Kenyon Martin, Warren Sapp, Terrence J, Rosci, Lyfe Jennings, Melyssa Ford, Anthony Henry, Brentson Buckner, Cousin Jeff, Darnerien McCants, Darren Sharper, Darrin Henson, Deon Grant, Essence Atkins, Fred Smoot, Ginuwine, Herkules, Hydeia Broadbent, Jerry Porter, Leigh Bodden, Lil' Mo, Michael Phillips, Sharmba Mitchell, Sinorice Moss, Tank and Victor Hobson.




Jay-Z & Alicia Keys Grace The Cover Of Vanity Fair's "Africa Issue"




In an historic move Vanity Fair magazine is set to feature twenty separate covers for its upcoming "Africa" issue, including shots with some of the continent's most famous supporters like Jay-Z and Alicia Keys .

The issue, which is guest-edited by U2 front man Bono, is set to hit newsstands this month and will feature a host of celebrities, political figures, and clergy who are involved in improving the overall condition of Africa through various humanitarian works, charitable organizations, and financial contributions for health care and HIV/AIDS research.

Jay-Z recently went to Africa in an effort to bring clean drinking water to the continent using special PlayPump water systems, while Alicia Keys has been doing her part by serving as the global ambassador of the organization Keep A Child Alive known for purchasing AIDS medicine for children and families in need.

In addition to Hov and Keyes, the magazine cover will also feature such notable icons as Muhammad Ali, Maya Angelou, Warren Buffett, President George W. Bush, Don Cheadle, George Clooney, Bill and Melinda Gates, Djimon Hounsou, Iman, Madonna, Barack Obama, Brad Pitt, Queen Rania of Jordan, Condoleezza Rice, Chris Rock, Desmond Tutu, Oprah Winfrey, and Bono, with all the photographs being shot by noted photographer Annie Leibovitz.

The covers will all have dual pairings, with Jay-Z's covers being paired with both Alicia Keys and George Clooney, and Keys being paired with former super model Iman.

"It's like what do all these people have in common? They don't, but one thing they do [share] is their passion for Africa and they believe the problems of Africa can be solved," said Bono. "That's what this issue of Vanity Fair is all about, to bring some sex appeal to the idea of wanting to change the world."

The magazine will also donate $5, for every subscription that is purchased online in June, to the Global Fund to Fight AIDS, Tuberculosis and Malaria.

For more information, log onto www.vanityfair.com